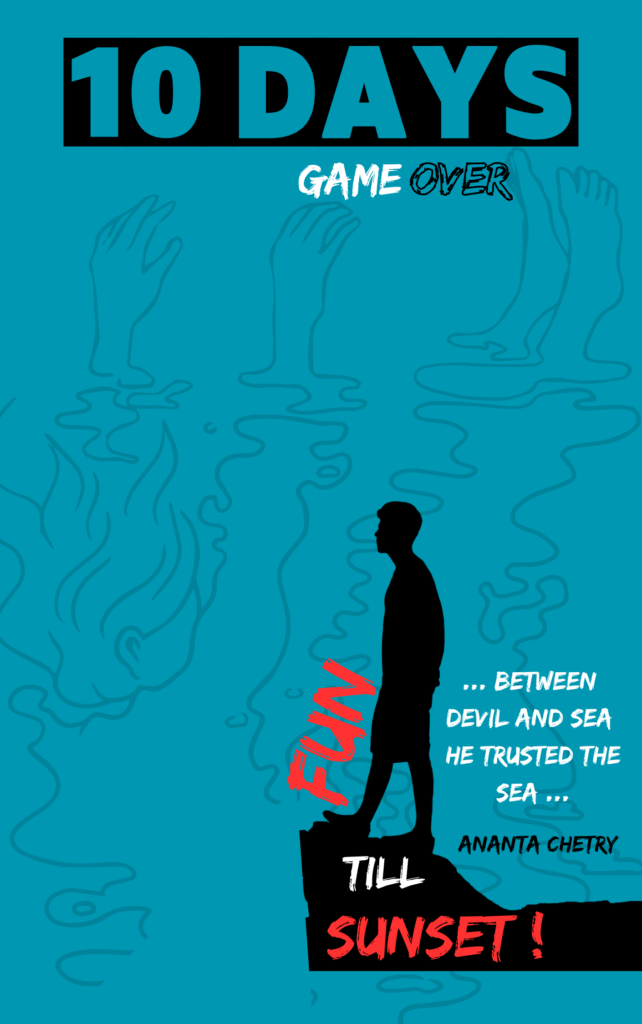 10 Days, short fiction by Ananta Chetry
Synopsis
Crime, Mystery, Action, Fight of Desires.
10 Days. Story of 2 Friends. Their Dreams, struggles, Success, Lust, Love, Friendship, and an event that leads to war with both worlds. Don's man-hunt, Police chase, Intel Agencies' tricks. With friendship & lives at stake, Can they stay united?
Based on True Events. A Modern Inspiring Tale.
About Book
India, Indians, and Cricket need no explanation. The country with a billion analysts, millions of aspirants and so many rib-tickling stories, on Cricket and Cricketers.
Such is the story of Arjun, a small-town kid, his aspiring journey, and his dream to be the next Cricket Legend of his country. Hell of a ride when he meets his like, Salman. The journey of how they earn a name for themselves and make millions of dollars. But by, neither playing Cricket nor anything illegal. Later, life takes an ugly turn, with everyone trying to hunt them down.
Can he save himself, as all desire a piece of him? Including- the DON Ibrahim.
Simultaneously, the world of cricket, the epic match-fixing scandal, and the state of bookies over time. Highlighting the overshadowed; rarely-mentioned piece of history, which perpetually changed the Game of Cricket.
For Non-Cricket admirers:
This story- 10 Days, will take you through the emotional and physical journey of a young boy Arjun who has just one dream- To make it Large!
What culminates when he meets his like Salman? Further, how the world reacts when they achieve glory?
What happens when you trigger the anger of Don Ibrahim? 
Finally, how Arjun saves himself from the Don, CBI, or Law, and his inner demons? 
But again, what about Salman?
A word from the author, Ananta Chetry
Read Concise! Because life is too.
Life is short. Very Short for the Readers. But we still love to read! Isn't it?  That can't change. Reading gives us that tickle that no other pursuit could provide. Tickle as a kick some might put.
1O Days is a short fiction inspired by the best of short fiction writers. It is an attempt to give you that same tickle within 15k words: exactly 15311 words, 13 chapters, 55 pages, hardly some 3 hours of reading time.
Honestly, for a newbie in self-publishing, this format gave the best vibe going forward. I trimmed it down, and made it as neat as it could have been possible, hope you would like it. 
Next up is a double-decked monster. Hopefully, this is just the beginning.
A fascinating trivia- It's named 10 Days because it took me exactly nine and a half to finish it.
Get 10 Days-
Now Live on
Kindle e-book
Check it out on- Amazon
Requesting you all to Please take a look. You may take a preview by clicking the respective link…
Copyright Statement
The content in this e-book is copyright protected. Except with the prior written permission from the copyright owner, no person may download, duplicate, reproduce, edit, publish, make available, or disseminate through whatever means or any content contained in whole or in part. 
© ananta chetry All Rights Reserved.