Remembering the Poet Icon Rabindranath Tagore –
"Death is not extinguishing the light; it is only putting out the lamp because the dawn has come."
Rabindranath Tagore the literary scholar, polymath, poet, musician, and artist, is best known for writing the national anthem of two nations, India and Bangladesh, and the Sri Lankan anthem is inspired by his work, but the scholar has many more achievements to his name and is remembered fondly around the world.
Here are a few Lesser Known Facts about Rabindranath Tagore
Did you know a dinosaur was named after him?
Barapasaurus tagorei was an 18 meter long & 7-tonne dinosaur that walked through India once. It was the first complete mounted dinosaur skeleton discovered in the 1960s in the Adilabad district of India.
Did you know who brought Judo to India?
Judo is a sport that is widely played in India. The first written record about Judo in India in Kodokan is about demonstrations and coaching of Judo by Shinzo Tagaki arranged at Shantiniketan in 1929 by Rabindranath Tagore. The Judo Federation of India was formed in 1965. Among the students who learned judo at Shantiniketan was Amartya Sen's mother, Amita Sen. About two decades later, Tagore called for another teacher from Japan.
Did you know there is an Indian music genre based on him?
Rabindra Sangeet. He composed 2,230 songs.
He was the first non-European to be awarded the Nobel Prize for Literature in 1913 and mark his prominence in literature. He was awarded for the publication of his acclaimed collection of poems, Geetanjali. But,
Did you know someone stole his award?
In March 2004, the Nobel prize awarded to Rabindranath Tagore was stolen from a museum in the Uttarayan complex in Shanti Niketan. A new medal was later reissued to Tagore on his birth centenary.
What do peeps do at 60?
Rabindranath Tagore took up drawing and painting at the age of 60 which he then successfully exhibited to the public.
How W.B Yeats wrote The preface of his most acclaimed work?
The preface of Tagore's most acclaimed work, Gitanjali, was written by another greatest poet of the 20th century, W.B. Yeats.
The story-
There was a famous painter William Rothenstein, who was a friend of the Tagore family. Tagore gave Rothenstein the translations of his songs, including the Gitanjali, when the latter traveled to London in 1912. Rothenstein was so taken by Tagore's poetry and introduced him to famous names like Ezra Pound and WB Yeats.
Rabindranath Tagore and Albert Einstein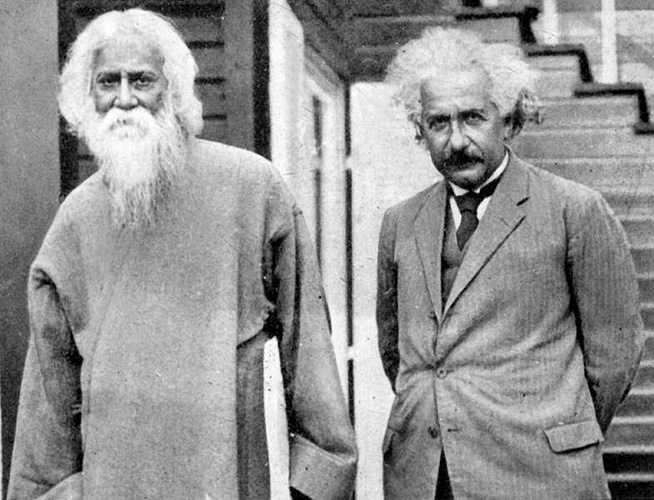 They met four times between 1930 and 1931 and mutually revered each other for each other's contributions. Tagore was once invited by Albert Einstein at his home. The two talked about religion and science and their chat has been documented in the "Note on the Nature of Reality".
Did you know he was Knighted Once?
King George V of England knighted Rabindranath Tagore in 1915 for his great contribution in the field of literature. However, following the tragic Jallianwala Bagh Massacre in 1919, he renounced his title.
Random Facts about Rabindranath Tagore
Tagore did compose national anthems for 2 countries. It is also believed that one of the Bengali songs written by Tagore in 1938 was translated to Sinhalese and adopted as the Sri Lankan national anthem.
Tagore's ancestral house now holds the Rabindra Bharati Museum. The house also holds many art galleries. This is a must-visit for art and history lovers.
In his later years, he suffered from persistent pain and subsequent periods of sickness. He even suffered from a coma during 1937.
Rabindranath Tagore died on August 7th, 1941 at the age of 80.
So that's our list. Did you like it? Would you like to know more? Then, use the comments box below because there's always more amazing Personality Facts.
Till Then read- Top 12 Amazing Facts of World